San Diego Most Authentic
Lebanese/ Mediterranean
Cuisine
Featuring the Cuisine of Lebanon's Street food & Comfort Food Along with the ever popular Street food items found throughout Lebanon with its rich varieties, ALFORON offers you dishes that are traditionally served during Lebanese Holidays, Family gatherings, Celebratory times or simply on Sundays. We take extreme pride in preparing those dishes in House from original ingredients with seasonal produce and herbs, Imported spices from our old Country of Lebanon. A beautiful setting with the purpose of sharing the rich cuisine Lebanon has to offer.
Come visit ALFORON and let us share with you the Joy of Old style food preparation using no additives or preservatives...
We welcome you to try ALFORON's fresh menu items prepared daily and on the spot and with you in mind. Experience the originality of our spices and simplicity of unmasked flavors. Vegan rich. See for yourself what thousands of guests continue to experience at ALFORON in what our Mothers, Gran-Mothers & Great Gran-Mothers taught us, cooked for us and the love they shared with us growing up.
ORDER ONLINE
All Menu Items available every day on our Daily Menu Specials :
Zaatar Flat Bread, Most amazing imported Lebanese Wild Thyme (Organic)
Lahm Bajeen/lahmajune
Cheese Flat Bread
Halloum / Soft Cheese
Kaack "el Asrouniyeh" and Kaack Kenefeh
Vegan and Vegetarian
Portabello Mushroom
Kishik
Salmon Bajeen
Egg Bajeen With Veggies and or Cheese
Lebanese Susage (Ma'anek)
Fatteh (Garbanzo and or Eggplant)
Cheese, Meat and Spinach    Fatayer/Pies
Falafel Wrap & Alforon Style Baked Falafel Bajeen
Shawerma Bajeen
Shish Taouk Bajeen
Soujouk Bajeen  

( Featured On Food Network's "Diners, Drive ins and Dives" )

Spinach Bajeen topped with Cheese
Sfeeha, Spinach, Feta and much more
Sambousek Meat & Cheese Filled
Kafta Bajeen 
Chicken Tawook (Our Ever popular recipe)
Labni Bajeen with Honey, Zaatar or Falafel
Humous & Baba Ghannouj
Ma'anek / Soujouk
Stuffed Grape Leaves (Vegan ) or with Meat Special order
Beirut Style Balilah & Foul, Served in clay bowls
Eggs in Clay pot "Foukhkhar"
Majbous Chicken
Ouzi Lamb Rice w/ White Sauce

( Featured On Food Network's "Diners, Drive ins and Dives" )

Lamb fatteh & Lebanese Fattet Humous
Kibbie Labaniyyeh
Kibbie Arnabieh
Kibbie Nayyeh (Special Order)
Kibbie Balls
Alforon Beet Salad
Alforon Olives & Jalpenos Salad
Mjaddara
Shish Barak
Shish Kafta Kabab
Sayyadieh (Fisherman's Rice)
Lebanese Mouloukhiyyeh
Lebanese Okra
Lebanese Musakaa
Kafta B'Alforon
Kafta B'Tahini
Lebanese Kabab: Chicken / Beef Tenderloin / Lamb Tenderloin / Kafta Gr. Beef
Traditional Lebanese salads Tabouli & Fattoush
Some items may be off the menu &  maybe subject to seasonal availability.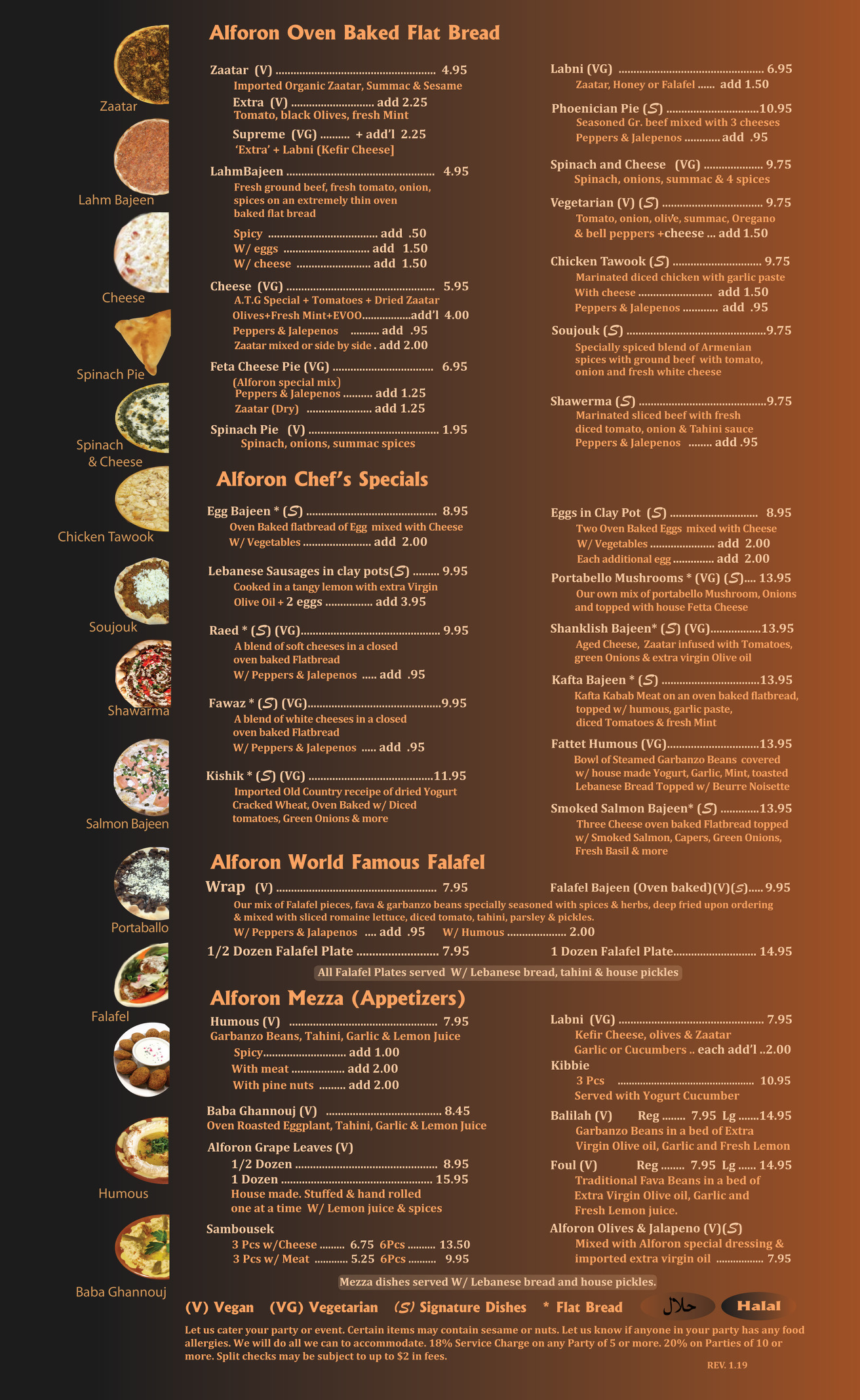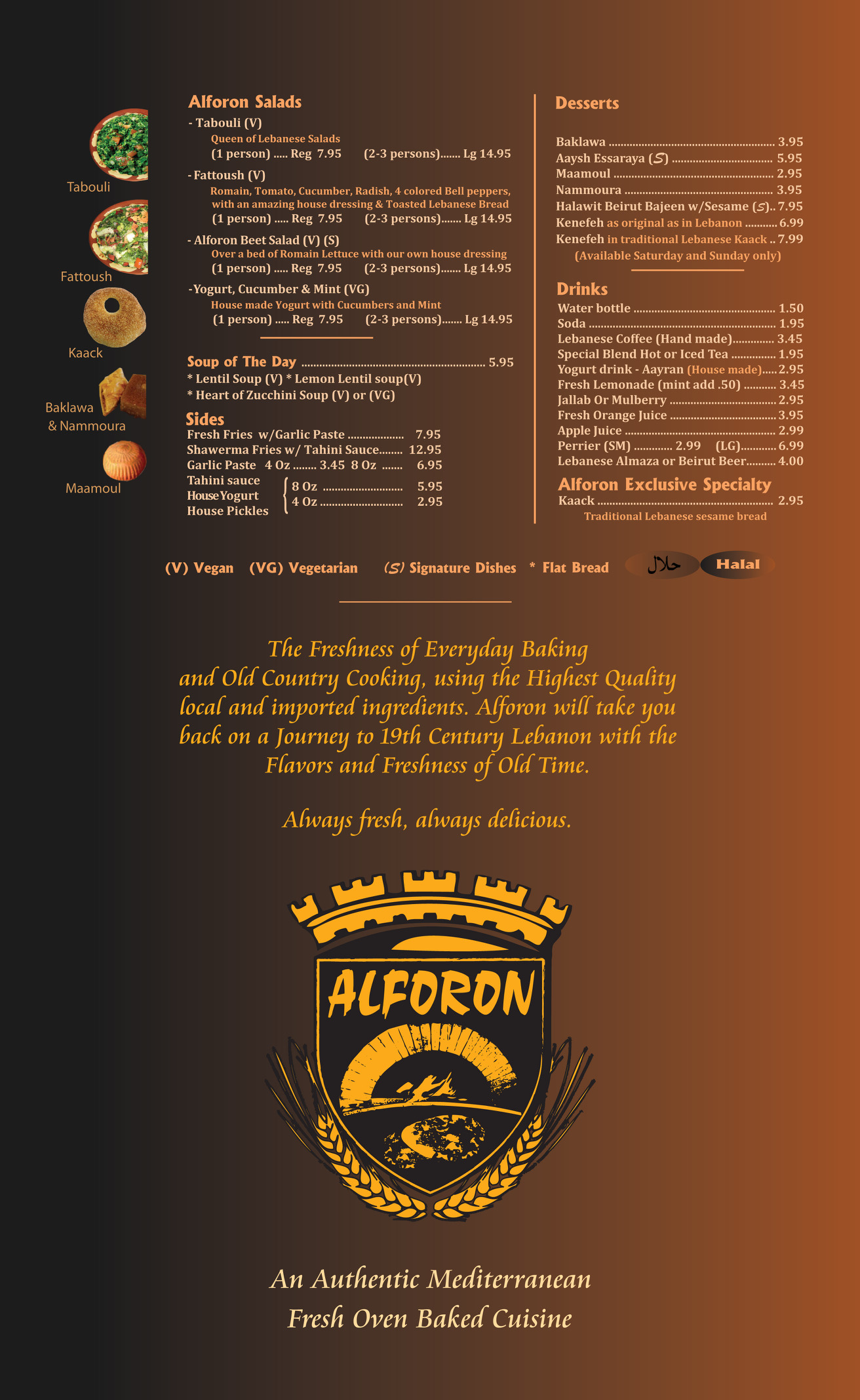 Alforon Mediterranean Daily Menu - Page 1
Alforon Mediterranean Daily Menu - Page 2
Take home our ever popular Lebanese Olive Oil and our special house salad dressing available for sale at the Restaurant
Alforon brings you the original flavors of our Old Beloved Country of Lebanon.
Alforon, 5965 El Cajon Blvd, San Diego, CA 92115
Photo
Aaysh Essaraya Dessert
5.95
Zaatar.
4.95
Lahm Bajeen / lahmajune
4,95
Lahm Bajeen/lahmajune Spicy
5.45
Vegan and Vegetarian
9,75
Feta Cheese Pie
6.95
Spinach Pies
1.95
Falafel wrap or Falafel Bajeen
7.95 / 9.95
Shawarma
9.75
Chicken Tawook
9.75
Soujouk
9.75
Spinach & Cheese
9.75
Tabouli Sm / Lg
7.95 / 14.95
Yougurt Cucumber & Mint
7.95 / 14.95
Zaatar and Cheese
7.95
Labni Plate (Homemade)
7.95
Humous & Baba Ghannouj
7.95 / 8.45
Oven Baked Kibbie w/ yogurt
Grilled Kibbie
Kibbie Labaniyeh
Vegan Kibbie
16.95 / 18.95
Kaack
2.95
6 Pcs Falafel
W/ Tahini, Pickles and Bread
7.95 / 14.95
6 /12Grape Leaves
8.95 / 15.95
Fattoush Sm /Lg
7.95 / 14.95
Labni Bajeen
6,95
Yougurt, Cucumber & Mint Sm/Lg
7.95 / 14.95
Balilah (R) / (L)
7.95 / 14.95
Foul Moudammas (R) / (L)
7.95 / 14.95
Tahini Sauce 8Oz.
5.95
Garlic Paste 8Oz.
6.95
Aayran (yougurt drink)
2.95
Special Blend Hot or Iced Tea
1.95
Sambousek Meat Sm/Lg
5.25/ 9.95
Sambousek Cheese Sm/Lg
6.75/ 13.50
Alforon Olives & Jalapenos
7.95
French fries With Garlic Paste
7.95
Phoenician Pie
10.95
Kenefeh & Kenefeh w/ Kaack
6.99 / 7.99
Halawit Beirut (V)
7.95